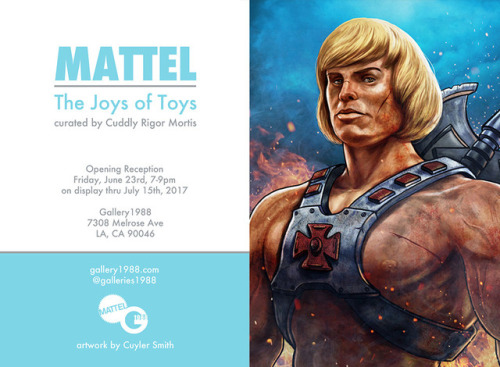 Mattel x G1988: The Joys of Toys
I'm really excited to announce that I will have a piece hanging in this wonderful group exhibit curated by Cuddly Rigor Mortis. The Joys of Toys at Gallery 1988 West celebrates those classic Mattel toys that had such an impact on so many kids.
I would spend countless hours coming up with perilous scenarios for my Masters of the Universe action figures to star in. So, for this show it was only fitting that my piece center around He-Man and his amazing furry red battle briefs. I don't know what was under those things, but it always seemed a strange choice of garment for a warrior known to engage in swordplay. Maybe he just thought his rippling thighs looked good in them?
Mattel x G1988: The Joys of Toys
Opens June 23rd 2017 7-9PM
Runs through July 15th 2017
Gallery1988 (West)
7308 Melrose Ave. Los Angeles, CA