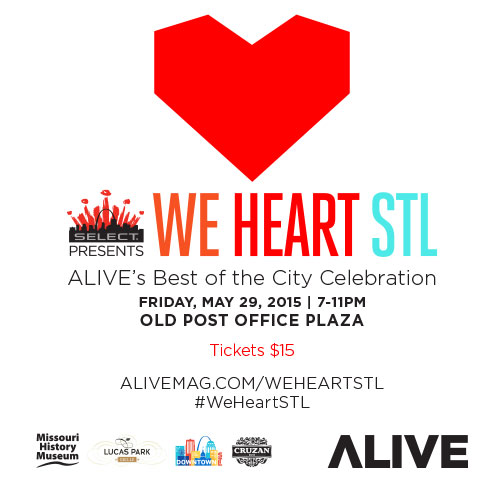 This Friday, shop 5/29/15, come and visit Cranky Yellow at:
We Heart STL Best of the City Celebration Presented by Bud Select
ALIVE Magazine and Bud Select have teamed up to kick off the summer with a celebration of all things St. Louis. Join us to celebrate our We Heart STL Best of the City winners at the Old Post Office Plaza in Downtown St. Louis on Friday, May 29, for live music, local vendors, delicious food, Cruzan Rum cocktails, dancing and an array of special surprises. All are invited to this Best of the City PARTY!
TICKETS
General Admission: $15
VIP: $30 and includes early entry at 6:30pm, FREE cocktails for the first hour in the VIP balcony and a $15 gift card to Central Table
Additional information at: http://alivemag.com/event/index.php/we-heart-stl/