Hi everyone. Cranky David here. Things have been a little crazy (and unfortunate) around Cranky Yellow recently. I'm pushing forward the release of the Small Time Woes Series because I, like almost everyone out there, have been feeling the choppy waters. I've been so frustrated recently with my lack of options and my inability to find the resources I need.
The city of STL isn't helpful. My phone calls to try to figure out my problems are not returned. My questions are scoffed at. My needs are not addressed. I firstly want to help Cranky Yellow and then I'm fueled to help other small-timers out there. Regardless of the project. Everyone deserves help. It's time to help ourselves.
---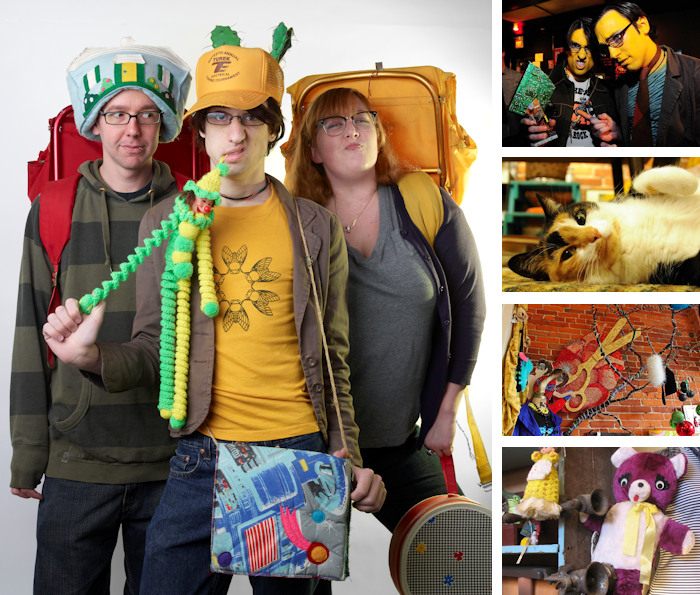 I moved to Saint Louis to open Cranky Yellow. It was just my crazy high school dream. Shut up. We can all do our thing, because this is Amercia, or something.
For about 2 years prior to looking for a retail space, I worked to save money and build a nest egg to open up. I didn't have a social life or really leave my small apartment. I had my dream and didn't expect or ask for help. I wormed up enough money and went for it. I had a pocket full of less than $1,000 start up capital and the drive to do it.
I found a really small unoccupied space on Cherokee Street through the help of the friendly owners of Cherry Bomb Vintage. I signed the lease and moved in. After fighting through the difficult, stressful, unhelpful, frustrating, and at times head-bashingly crazy city process to obtain an occupancy permit and license for the building (previously un-occupied since 1992) I opened Cranky Yellow. I was 20 years old, I had never been to college. The only thing I knew about business was how to spell it. That much I was certainly able to do.
Through the help of the St. Louis Craft Mafia and other local artists and junk enthusiasts (like Luluvoodoo and Emily Hemeyer) I built up enough inventory to officially open the doors.
I pushed along and stayed open and I worked to meet my community, my neighbors, my like-wise small business owners. However, I never seemed to meet my district's city rep(s). I was also never successfully received assistance from my "rep" at the small business assistance center at City hall. That's funny, don't you think.
The only people talking or asking about my progress were people in similar situations to myself. Community members and other small business owners in our 'hood. There's lot of tension and frustrations behind the scenes; anyone working independently in Saint Louis will tell you if you take the time to listen.
I plugged along and did everything to get noticed and grow my business. I've organized and hosted massive international art shows featuring hundreds of artists from around the world. I collaborated with other independent businesses in Saint Louis. I kept everything local and pushed myself out there. Through the work, I started getting press for Cranky Yellow and was able to grow.
Cranky Yellow is a sole proprietorship. That means I'm personally responsible for everything with Cranky Yellow. I've always done my best and I'm not ashamed or embarrassed of anything. Working hard to grow has it's bumps. Learning business from scratch has it's hardships too. I somehow manged to quickly and somewhat irresponsibly create a cranky monster that was too big to tame alone.
I work mostly by myself and with the support of my very closest friends (that volunteer when they can) and recently a batch of rad unpaid interns. Together we try to handle this ever-growing load of cranky business. Our overhead is killing us and our sales are down. Not to mention the city of Saint Louis is taking me to court for two different things. Remember I'm a sole-proprietor.
---
Earnings tax (a 1% tax taken from my pay) is the first court summon I received. I never knew about the tax and would have been happy to pay it if there was any effort made to inform me of it. A city clerk at the Collector of Revenue's office said I filed it in 2008. I'm pretty sure I didn't since I didn't even know about the tax before my notice of a court date. Cranky has never turned a profit and beyond paying expense there is no money. I'm filing $0, then going to the court date to plead it's been taken care of.
The next court date, April 5th, is for 'Failure to provide commercial container', a cryptic message that I was able to get some information about once I started complaining on facebook.
For those of you that are as lost as myself; it all about trash. The city only provides trash pick up for residential and not commercial. I was never told. I've had a business in Saint Louis for 5 years and have never heard of it. I suppose that's not the sort of assistance the small business assistance center should provide. However, the city is happy to send me to court and offer a fine instead of information.
I'm a mutant, I guess. I'm a resident in the city: living in and with my small business. I've always lived in the apartment(s) residing above the Cranky Yellow space. That's good news for you stalkers.
Multi-use space just melts the city system. After endless phone calls (to 8 different city numbers), being transferred between departments, researching online and being hung up on twice by the City Court automated machine I still haven't gotten any information about my trash offense.
I would have been happy to provide a commercial container if I had been informed about it. There is only one kind of trash I take to my dumpster, my own.
How should I plead in court? What are my options? Who protects the Cranky interest and the interest of others like me?
No one.
Absolutely no one.
---
It's un-organized and messy around here. I'm not delusional. Money is short and always has been. The very little money made at Cranky Yellow is spread between growing bills, trying to advertise, and attempting to catch up on back-taxes. Overhead, over hell.
I've tried to get funding from banks and credit unions and have failed. They don't lend to the Cranky Yellows of the world. I'm going further in personal debt and am losing all steam.
I do my best to stay creative and I'm driven to survive. The support I've received from the community and from fans of Cranky Yellow is plenty. I'm smitten by that. The support I've received from city officials and local reps is zero. I'm saddened by that.
With the help of people that are passionate about Cranky Yellow surviving, we're having a dj-ish party, shop-a-thon, and help-a-long fundraiser on April 2nd with a modest goal of $1,000 (just like the beginning). If 100 people bring $10 to spend or give to the cranky cause; it will happen.
Also, as the start of the SMALL TIME WOES SERIES I'm opening the door for another small-time goal of $500 for the Cranky Defense Force. To find options to stay open and grow. To help cushion a plan for the future and to put a little money into my new goal to raise awareness for others in my situation, or worser-worse situations.
Next week Cranky Yellow will release a new story from someone else like myself. The yellow support below will remain open until each small-time effort reaches it's small-time goal; whatever it may be. It's easy to help. Click the button and send any amount directly to the person (or peoples) in need.
You'll hear what they're feeling, their stuggle, and their hopes. Then help. (We) can't make it any easier.
Thank you and wish me luck or offer your advice and support in the comments. Together it happens.
-Cranky David.
Donate now, directly to David and the Cranky Yellow effort to survive and find sustainability.
You'll feel good, you'll help and you'll be loved.
GOAL: $500 : REACHED! HOORAY! LOVE EVERYONE!
REWARD for DONATING: David will personally write you a thank you, draw you a picture, and send you all sorts of CY related fliers, goodies and little bits of junk.
This goal is closed, but we're in no position to stop you from further donations. Helping is just a click away. Any amount. Now save the day:
---
SPECIAL THANKS::
Travis, Alecia, Brett L, Benjamin, Eli, Flayer Design, Stacy, Emily, Jennifer, Pig Hump Records, Andrew, Dale, James, Leslie, Shelley, Nicole, Elijana, Deidre, Wendy, Amanda, Burton, Rachel, Joe, Polygorp Enterprises, Beqi Clothing, Catherine, Constance, Brett M., Allison B., Allison P. and Justin for directly funding this small-time woe.
These small time funders are citizens and neighbors in: MO, IL, OH, PA, CA and Australia
(Special awesome thanks to Amanda Beard, Jane Tomich, Christy Stewart, Mabel Suen and the RFT for some of the photos above.)