1. After the release of our Small Time Woes series and an RFT article we've seen an enormous outpouring of support from the community (both local and world-wide). The kind words and contributions shown to our struggle have been so beneficial. We've paid up many of our debts. Fixed problems with Saint Louis City Hall and continue to be driven to fix the rest of our many problems. Not to mention our fundrasier/dance party to keep the momentum up!
2. Part of our dedication to become financially sustainable and growing our portfolio includes the finalization of many web/design projects we're currently tinkering towards completion. We're happy to be working with Green Peace on a game board for Earth Day, a portfolio for Amanda Beard Photography, an interactive band website for Spelling Bee and a few others that we can't mention just yet.
3. Last Week the SGC Print Conference flooded our street with creative types and general art/local supporters. Cranky Yellow was packed from noon till midnight with a swarm of helpful friends and customers. Through this street-wide collaborative event we were able to make enough money to pay up one of our most serious (aka time sensitive) debts.
4. The work of Jason Potter is still on exhibition for another week or so at Cranky. It's been widely praised by gallery attendees and you should peek it before it's gone for good. We have our entire 2011 gallery schedule booked and will be releasing information about those upcoming shows ASAP!
5. The Cranky Yellow Totem pole has been painted and will be installed after a bit more touch-up work. It is just one way we are working to increase our visibility and brand recognition. A small but important step forward for keeping our efforts in the public(s) eye(s).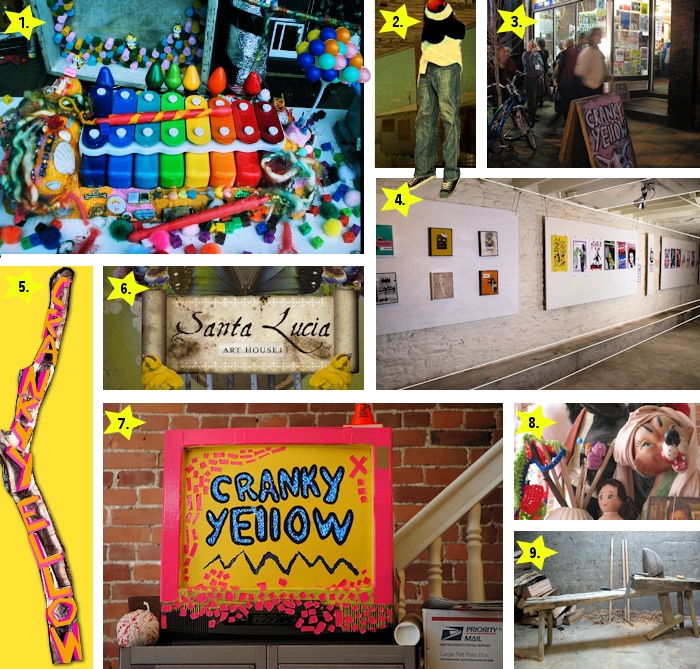 6. We have a very exciting Cranky Yellow + Santa Lucia Art House limited edition fine art release, gallery show and website project planned to see the light of day in two-ish weeks. We won't tell you much but it's stunning, NSFW, and our biggest solo collaboration to date. Hopefully through this project we can continue to grow and help more artists with their visions.
7. Recently, our long time friend and Cranky Seller, Sweetie Pie Press wrote a heart-warming blog about our struggle and that of other indie/left/small retail projects. There are so many independent shops that need support that it's really time "we the people" pull back and invest our dollars locally and independently. It is just better that way!
8. We've unloaded nearly 400+ new art and vintage items into our maze of wonderland like merchandise. We hope that you can stop in soon and browse, photograph, inspire, and shop at Cranky. There is also an upcoming cranky alliance with another local STL shop that we're dieing to announce… All in good time.
9. Lastly we're picking away at a branding project for a small start-up. For the sake of secret keeping: It has to do with reclaimed wood (that grew during the revolutionary war), four generations of hard work, and hand-crafted goods created with antique machinery. Yes, we're really there.
Thank you again for your support and wise words of wisdom. We want to make history with your help and strive to do it one day at a time. Please leave comments below and brighten our day.